We do these meetups annually and in previous years have held them in Berlin, Barcelona and London. This meetup marked a return to that tradition as it was the first one since covid.
The logistics are always tricky. We needed to fly people to Rome from over 10 different cities across Europe. However, the most nerve racking part of the logistics were the taxi rides from Rome airport. Risk assessments were reconsidered as we hurtled along bumper to bumper while the driver sat unbuckled and unconcerned browsing the internet on his phone.
Shelter was provided by a villa fit for a cartel with 21 bedrooms and a beautiful terrace for alfresco dining. It had the additional charm of having been somewhat neglected for the past decade and was comfortably rough around the edges. There was also a selection of sporting facilities which received a diverse range of enthusiasm. On the pool table, QA's eye for detail proved decisive. But they struggled with the additional agility demanded by table tennis. Meanwhile the data science team took the opportunity to agree the epistemological differences between science and engineering. And to confirm that ordered complexity was an inevitable consequence of the self-organising nature of matter.
We were also treated to a cooking lesson in the authentic Roman tradition of gnocchi preparation. Notably, the frontend team had a knack for fork rolling and determination to meet the design guidelines. The delivery and backend teams, as one would expect, led by example and delivered a convivial atmosphere throughout.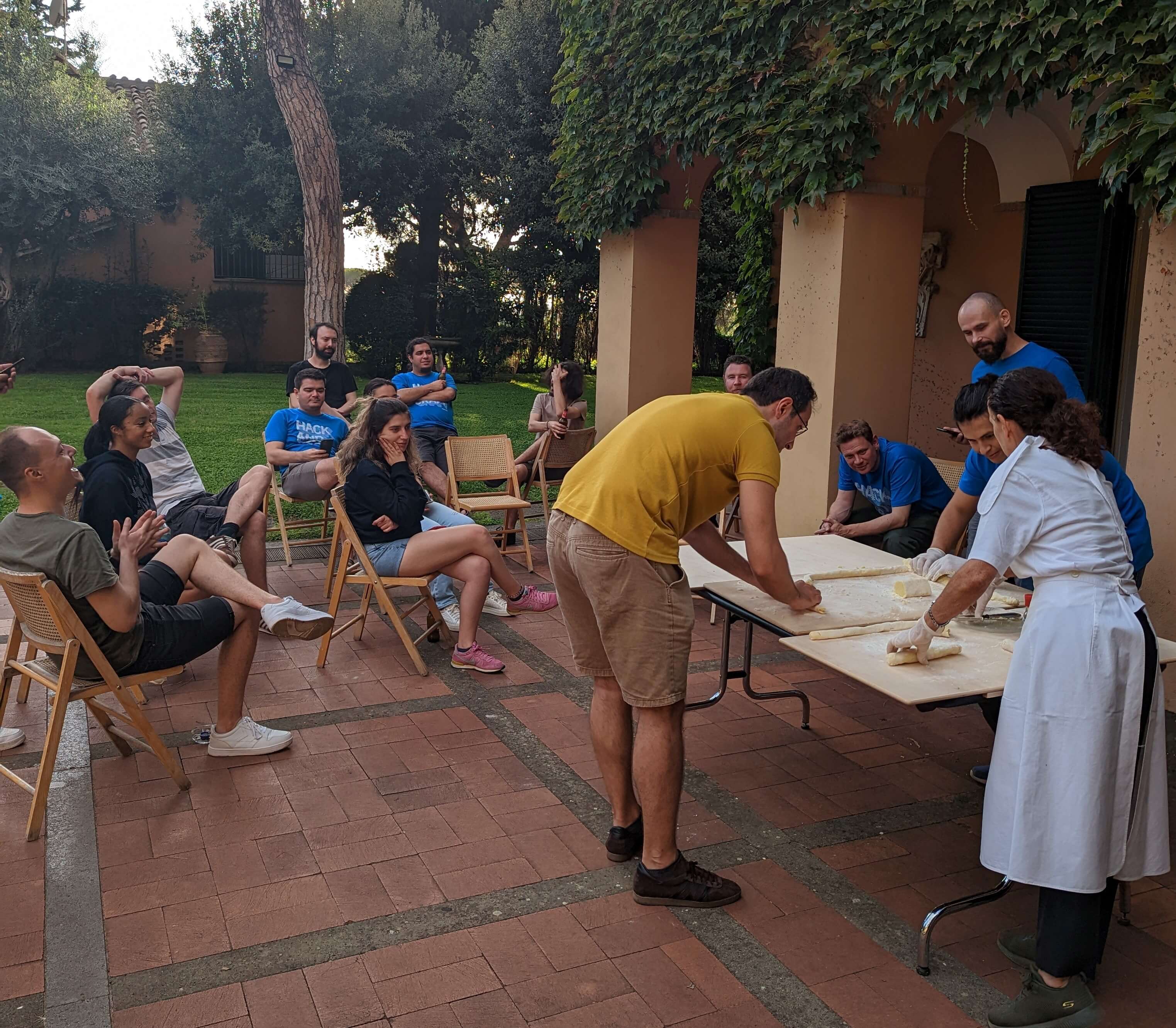 It was great to see how well everyone got on. Despite working together closely, some of us hadn't met face to face. But, once the initial surprise of people being unexpectedly tall, short or of average height was overcome, the jokes and conversation flowed. There is no substitute for face to face meetings. Remote is great for transactional work in which teams stick to a defined process. But, we have found it isn't good for more strategic and reflective conversations in which we need to look critically at our own ways of working.
Because of this we used our time in Rome to introduce the OKRs system for defining objectives and tracking our progress towards them. As H&C has grown we need a structure to ensure that objectives followed by teams and individuals are tightly aligned to higher level company objectives. The management team presented our company objectives and key results to the entire group and discussed feedback. Then each team split into their own workshops to define objectives and key results which work towards the higher level company objectives.
These workshops work best face to face. The result is a systematic approach to growing the company which retains the engineering excellence and culture that have got us this far. We also had a very good time.