Customers require instant, easy access to the digital services and data infrastructure you provide. We recognise the struggles manufacturing and construction companies face with digital transformation. We're currently seeing high demand for digital connectivity ecosystems to consolidate digital tools and maximise their value. This article explains how this can benefit your business.
Firstly, what is a digital connectivity ecosystem?
Our digital 'Connect' platforms help companies improve connectivity across their supply chains.
We built AkzoNobel a wrap-around ecosystem that acted as a one-stop-shop for all digital services, improving UX for their merchants and contractors. The platform handles a range of tools for specification, logistics, product information, knowledge base, training, promotions, rewards and more.
This has transformed AkzoNobel's business performance and operations. Read on to understand why …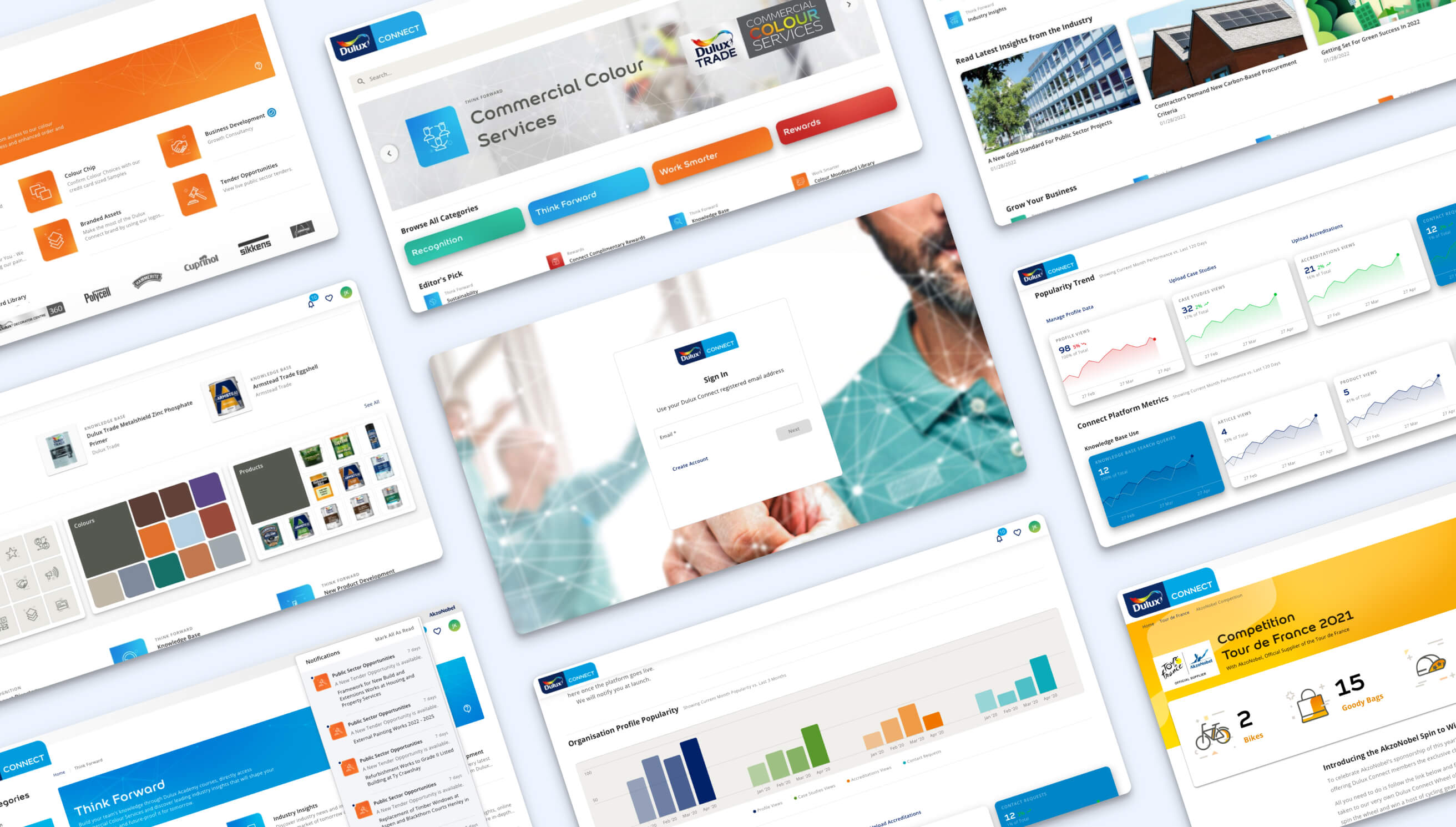 1. Preserve the value of your existing digital tools
If the digital services you provide are difficult to access, they remain unused and add little value to your business.
This often occurs when a company attempts to centralise its tools after they were developed for individual business units. This fragmentation leaves the technology forgotten and disused. If these tools were easily located through a connectivity platform with SSO, they would become more accessible and maintain value.
2. Gain newfound lead visibility and improve CX
By using technology to bring customers into a central ecosystem for your services, you can track their activity. This will help you understand how your teams, third parties and customers interact with your digital services.
As demand for quick, easy access to information increases, companies must become more digital. Digital connectivity ecosystems house your digital tools so that they are more accessible.
This technology encourages wider customer engagement and reduces frustration, improving UX and driving sales increases - bringing us to the next benefit …
3. Increase revenue growth and gain supply chain advantage
Enabling instant access to your digital tools drives customer engagement, increases brand exposure and speeds up sales pipelines. By bringing your customers into a digital ecosystem, they will engage with your other digital services, boosting sales.
AkzoNobel see significant revenue growth from their digital connectivity platform. We help them track the solution's ROI through a bespoke analytics reporting suite.
Connectivity platforms bring your third parties into a bespoke, wrap-around ecosystem. By providing the technological infrastructure that players in your supply chain depend on, you will gain more control over your operations.
Such technological advantage will enhance the smooth-running of your supply chain, your market position and your overall business performance.
4. Unify and consolidate your organisation
A shared struggle of companies striving towards digital transformation is the difficulty of pooling all tools, knowledge and resources together. Especially if employees from different divisions have never been trained to use certain tools, or company-wide resources and dataflows are too heavily fragmented.
Our connectivity ecosystems enable seamless UX for customers and employees. They can act as the backbone of both your organisational structure and your digital services.
5. Establish a foundation for future innovation
Customer expectations are ever-changing, especially as markets become more saturated and companies differentiate through technological innovation.
We build our solutions for scalability and future innovation. This makes us unique to other providers; we continue supporting our clients long after their solutions launch.
We have worked with AkzoNobel across several projects. Their connectivity hub is a gateway to the digital specification tools we co-created, including an innovative lifecycle costing tool and a digital mood board platform.
Why not see for yourself?
If you're curious about how our digital connectivity ecosystems work, we can give you a demo of the technology and discuss how it can be customised to meet your business needs.
Email info@hackandcraft.com to enquire about this today.