We partnered with industry leading construction company Saint-Gobain to help accelerate their vision for a highly sustainable, better connected circular supply chain.
Working closely with the Saint-Gobain and British Gypsum teams, we delivered a digital recycling platform that facilitated faster, better connected circular waste management.
British Gypsum, one of Saint-Gobain's largest construction brands, needed to improve the efficiency and sustainability of their plasterboard waste management process.
Having worked on several initiatives to improve circularity and efficiency with our Digital Twins, we had the domain knowledge and cutting-edge innovation British Gypsum needed to level up their supply chain sustainability while improving overall transparency, visibility and interconnectivity.
Key Goals
We gave Saint-Gobain a scalable, innovative and efficient way to accelerate their sustainability journey.
Our circular supply chain ecosystems are transformative for cost optimisation, planning and connectivity.
Transformative reductions in waste, supply chain disruptions and cycle times.
British Gypsum's previous waste management process was manual, slow and error-prone.
Contractors on building sites would have to call British Gypsum to request a specific quantity of skips or waste disposal bags. To convey this information, British Gypsum would then have to call the Waste Management Centre (WMC) and specify how many skips or bags they would need delivered to the contractor's site for which day.
In addition to this, the plasterboard supply chain is made highly complex by various rules and lead times; it can take three days for skips to be delivered and up to seven days for bags, which can then only be collected in sixes.
Leftover construction material from building sites is put into skips and demolition bags before being taken to the WMC where it can be sorted and any contaminated waste is removed. The plasterboard is then ground into smaller pieces, reheated and mixed with new materials to make recycled plasterboard. To meet demand, British Gypsum need to know how much recyclable waste they will receive from the WMC. 
All communication and data-sharing was previously done via spreadsheets and written documents, with regulatory documents being manually handed from contractor to driver to distributor. This limited the circularity and efficiency of their process while also impacting customer experience.
Utilising our domain expertise, data management capabilities and cutting-edge technology, we built a digital circular recycling network for British Gypsum.
Our Connect for Recycling platform gives British Gypsum the self-serving digital ecosystem they need to streamline their waste management process and increase its sustainability. The technology seamlessly connects manufacturers, contractors, environment agencies, WMCs, recyclers and haulage companies.
The hub-and-spoke platform is customised differently for all parties in the waste management process and can be accessed by web or mobile phone. For example, the platform allows contractors to add numerous sites and quickly create separate orders for each site, with inputs for when work will start and f
The end-to-end digitisation simplifies the waste management process, allowing for scalability. The platform also delivers end-to-end traceability and enables robust supply chain planning.
All order, tracking, invoice, collection and transfer information is fully visible for all users, removing the need for spreadsheets and manual data handling.
Insights for Increased Sustainability
The platform comes with an analytics tool that can be viewed by both British Gypsum and their customers in order to track sustainability metrics from the digitised waste management process. These include detailed insights on orders, contamination, weights and income.
This feature allows British Gypsum to review trends and use the insights to devise data-driven strategy and customer success improvements. British Gypsum can also use this historical data to make future predictions for waste collection projection to calculate how much recyclable material they will receive at any given point for the creation of recycled plasterboard.
Understandable, explainable insights are key to the success and continuous improvement of circular supply chains. Making insight-driven decisions empowers leaders to devise better strategy faster, enabling improved business outcomes.
Many companies in the construction, manufacturing and logistics spaces wish to transition to the circular economy, but struggle with the complexity of connecting each cycle stage.
With our technology, companies like Saint-Gobain's British Gypsum can connect the dots and reap the benefits of circular supply chains.
Our long-term innovation partnerships with industry leading companies enable us to work on unique projects across many years that resolve major supply chain challenges, accelerate digitisation and rapidly add value to their businesses.
Looking to Make the Transition over to Circular?
It is evident that companies with large global supply chains need to take action towards more sustainable and efficient operations, but knowing where to start can be tricky.
To begin the conversation about how Connect for Recycling can accelerate your company's sustainability roadmap, or to discuss how we can partner with you to deliver cutting-edge supply chain innovation, email Beth at beth.walker@hackandcraft.com today. Read our free whitepaper 'Technology for Circular Supply Chains'.
Other case studies for optimise
TradeKart
TradeKart
A brand new online marketplace and on-demand delivery service for tradespeople, delivering what you want, when you want it.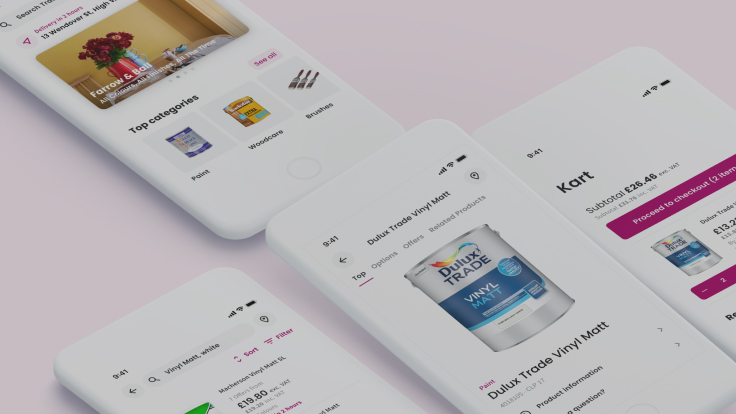 Browse other case studies
Get in touch to unlock your innovation potential